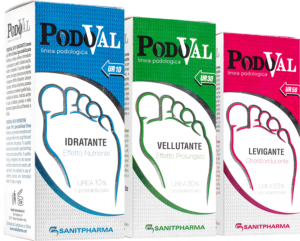 Podoval
Your feet communicate: Let them tell great things about you!
From Sanitpharma a new product line for feet beauty and wellness.
Feet not only support our body and allow us to carry out all the daily life activities but also talk about how we take care of them and give a flavor of our personality, mood and attitude. Whereas up to some decades ago feet used to be confined inside shoes, nowadays there are more and more chances to show them off, as for our legs, hands and face. Dry and scaly skin, chapping and itching, rough and thickened heels, painful calluses, besides compromising our daily comfort can impair the look of our feet. To help maintaining or regaining beauty and wellbeing of feet it is advisable to take care of their skin every day, applying specific products that protect natural cutaneous hydration and elasticity and contribute to maintain or restore soft, velvety and glowing skin.
Sanitpharma's continuous attention and interest into independent as well as internal scientific research, proven by several registered patents, warrants for the development of innovative products that can meet the needs of patients and healthcare professionals in Italy and worldwide.
Podoval range of products is the result of years of professional and medical research focused on solutions for total beauty and wellness of your feet
Podoval products with Lipostabilized Pure Urea.
Value your feet by taking care of their beauty every day.
Podoval is a line of products containing Lipostabilized Pure Urea that in its different formulation represents a powerful ally for feet skincare and wellness.
Podoval UR10 (with 10% Pure Urea) is indicated for daily use, to maintain or restore optimal skin moisture and say goodbye to dry skin. Stops itching, skin tightness sensation and unaesthetic rough and chappy appearance.
If skin got thick, stiff and very dry Podoval UR30 (with 30% Pure Urea) thanks to its exfoliating properties helps thinning skin down, giving to your feet a smooth and velvety look.
In case of localized stubborn thickening of skin, such as calluses or dry and stiffen heels, the keratolytic and intensively exfoliating action of Podoval UR50 (with 50% Pure Urea), helps softening the area thereby facilitating the mechanical removal of thickenings. Feet recover a smooth look, they thank you and love you!
Podoval products contain also botanical extracts such as Shea Butter and Helianthus Annuus seed oil that by exerting emollient, nutrient and moisturizing action, contribute to maintain the integrity of skin barrier function and softness and smoothness of your skin.