Grants immediate and prolonged relief and freshness, leaves your feet skin smoother, softer and elastic.

Long lasting beauty and wellness, gives your feet a neat, smooth and velvelty look with cleansed and moisturized skin.

Adjuvant of treatment and removal of the most common cutaneous imperfections of feet. Gives your feet wellbeing and beauty.
Podoval,
a
full
range
of
products
for
the
beauty
of
your
feet
Sanitpharma
Life
from
Nature,
Power
from
Science
Innovative products that meet the needs of patients and healthcare professionals worldwide.
About us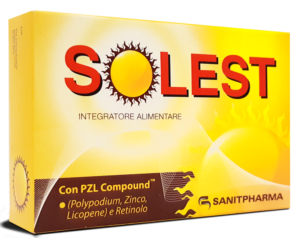 Try
also
Solest
Solest is a food supplement containing Polypodium Leucotomos that contributes to the maintenance of skin functionality and trophism; Selenium, Vitamin C and Vitamin E contribute to protect the cell from oxidative stress; Copper contributes to normal hair and skin pigmentation; Biotin, Zinc and Vitamin A contribute to the maintenance of normal skin. Lycopene and Zeaxanthin enrich the formulation.
Buy
Are you looking for more informations about Podoval?