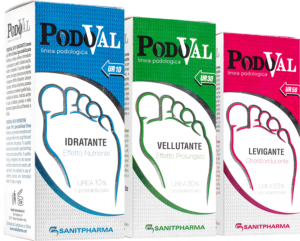 Podoval
Your feet communicate: Let them tell great things about you!
Urea has been used for more than a century in dermatology owing to its emollient, hydrating and keratolytic properties.
Topical application of urea in concentration around 10% exerts moisturizing effect by reducing trans-epidermal water loss. It maintains hydration of healthy skin and improves signs of dry skin by reducing dryness, roughness, itching and scaling.
When used at higher concentration urea has keratoreducing and keratolytic properties and it is useful in case of extended or localized stubborn hyperkeratosis, to help mechanical removal of cutaneous thickenings.
All Podoval products contain Lipostabilized Pure Urea that in its different formulation represents a powerful ally for your feet skincare and wellness.